Beach Cities Health District (BCHD) prepares its budgets on a July 1 – June 30 fiscal year. The budget represents the District's spending plan and, once approved by the publicly-elected governing board, serves as the legal expenditure authority for all BCHD operations.
Budgets are submitted annually to the California Society of Municipal Finance Officers for review. BCHD continues to be the only California health district to meet these standards of excellence, and has received the award every year since its 2007-2008 fiscal year. Certificates are incorporated into each following year's report.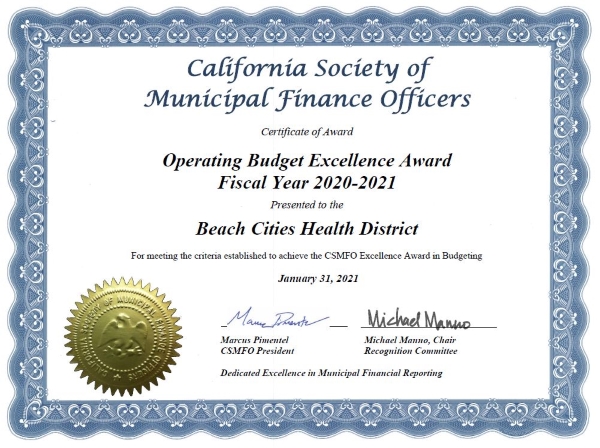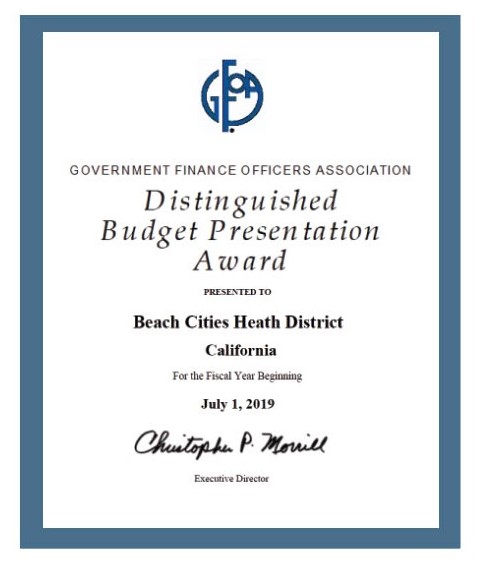 This is the first year the Excellence Award was achieved by Beach Cities Health District. The effort to seek and attain this award reflects the District's commitment to meet the high standards of govermental budgeting and reporting. 
Approved Budgets by Fiscal Year
Grants By Fiscal Year
Help downloading documents
If you are having trouble opening the links below, please use a browser other than Internet Explorer or follow the steps below:
Close your web browser. 
Start Acrobat or Adobe Reader.
Choose Edit > Preferences. 
Select Internet in the list on the left.
Deselect Display PDF in Browser, and click OK. 
Restart Internet Explorer